Why Using A Fan In Your Baby's Room Might Be A Matter Of Life Or Death
These days, most households have air conditioners, and parents even prefer for their children to sleep in rooms with AC. 
A common question circling among new parents is: Is it better to put a baby to sleep in an air-conditioned room or in a room with a ceiling fan? 
There is no conclusive evidence that air conditioning raises the risk of SIDS whereas a fan does not. But why do some people recommend putting your child to bed in a room with a fan rather than an air conditioner? We're going to take a look at the advantages of putting a baby to sleep in a room with a fan. But first, let's get you familiarized with SIDS. 
SIDS, or Sudden Infant Death Syndrome, is a condition in which infants die suddenly in their sleep for no apparent reason. These accidents frequently happen when the infant is sleeping in the crib, so it comes as no surprise that they're also known as crib deaths. 
Although the aetiology of SIDS is unknown, there are some physical and environmental risk factors that raise a baby's chances of succumbing to it. 
Babies born with brain problems may lack control over their breathing and sleeping habits, making them more vulnerable to SIDS. Premature newborns with low birth weight may have undeveloped brains that are unable to regulate sleep and breathing, increasing the risk of SIDS. SIDS can also be caused by respiratory illnesses in babies.
Apart from physical problems, SIDS may also be caused by environmental factors such as sleeping on one's stomach, on a soft mattress that dips in, sharing a bed with parents, and so on, which can cause the baby's airway to be accidentally obstructed. Excessive heat in the baby's room also affects the baby's respiration, which can result in sudden infant death syndrome. 
Benefits of a Fan in Your Baby's Nursery
Placing a fan in your baby's nursery has a number of benefits. Many of them assist in keeping your little one secure as well as ensuring that they get the deep sleep that they need to grow. 
Using a fan instead of an air conditioner in your baby's room is strongly advised. The method by which an air conditioner treats the air in a room is not exactly suitable for a little child. It generally adds fresh molecules into the air while removing existing moisture, making asthma and other respiratory problems, as well as skin diseases, more likely to affect your child. A fan manages to keep the air flowing without stripping it of its natural moisture.

During the hot summer months, you may consider installing an air conditioner or a cooler in your baby's room. While you might have good intentions, these approaches may increase the temperature to dangerous levels, making it harder for your baby's body to adjust after they are removed from the room. A fan can lower the temperature to a level that is safe for the newborn without posing any dangers.

A little one may feel uneasy in a totally closed and sealed area. The compressor kicking in, in combination with the sound of the air conditioner, might cause sleep disturbances. A fan produces a steady, rhythmic white noise that strongly mimics the sounds a baby hears in the womb. This provides them with a sense of security, allowing them to fall asleep quickly and easily.
How a Fan in a Baby's Room Lowers the Risk of SIDS
A lack of ventilation in the child's nursery is one of the leading causes of Sudden Infant Death Syndrome (SIDS). To utilize an air conditioner in a room, the space must be completely closed, which might make baby feel claustrophobic. However, a small open window, along with the airflow created by a fan's movement, may easily circulate the air throughout the room and maintain adequate ventilation.

According to studies, when parents choose to leave windows open rather than closed, the risk of newborn mortality due to SIDS drops by nearly half. Aside from ventilation, it's also important to maintain the room's carbon dioxide levels. Your little one will get enough oxygen if sleeping in a ventilated room with a fan.
Where do we fit in?
Our team at Solenco works hard in bringing you products that are not only top of the range, but that are also designed and made with the wellbeing and safety of your family in mind. SIDS shouldn't be something you worry about as a new parent. That's why we're here to help lighten the load and give you something to smile about. 
Our fans not only range in size to suit your baby's needs, but also emit almost no sound, which is perfect for a sleeping baby.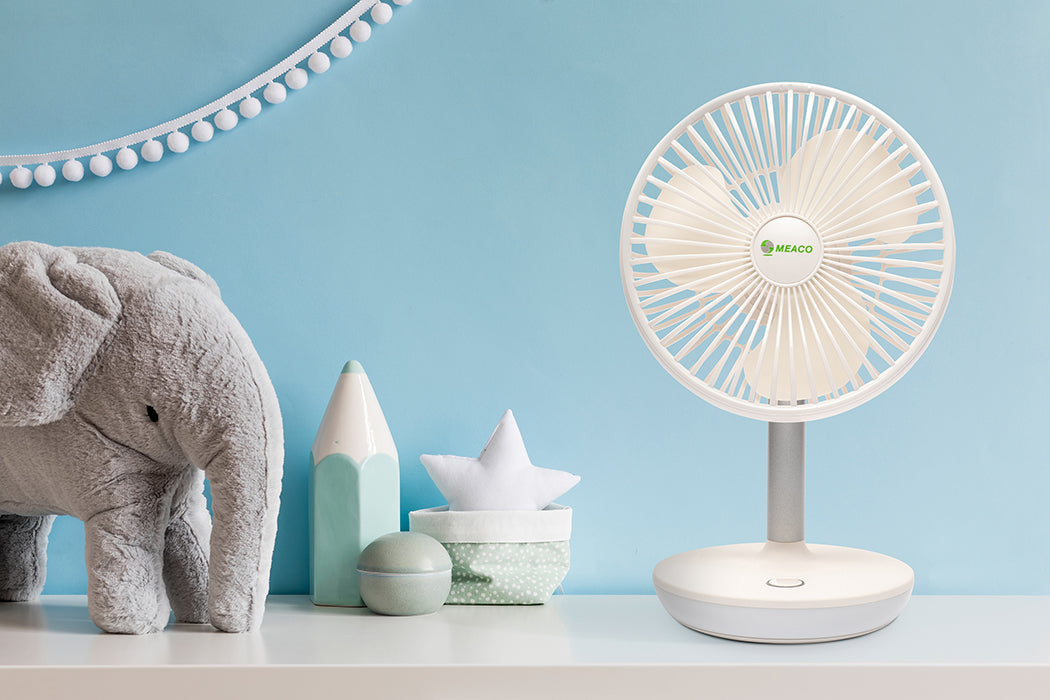 MeacoFan 260c Battery Operated Air Circulator and Night Light
The MeacoFan 260c Cordless Air Circulator is an ultra-quiet cordless air circulator with a long-life battery, LED light, and a powerful airflow. This fan offers an ideal way to tackle warm temperatures without the need for wires or cords. Enjoy a comfortable environment for up to 16 hours using the fan's built-in long-life battery.
Small, lightweight, portable and cordless fan with light
Rated 8/10 by Stuff Magazine, read their review

 

here. 
Quiet and energy-efficient- DC Fan Motor
Four fan speeds
Add

 

2 or more

 

and

 

receive a 10% discount

 

on both units.
Runs for 14 hours on a single full charge
USB charging allows you to plug into laptop, wall socket or any charging point
Simple controls on fan base
Cools in temperatures up to 40°C
1.2m USB cable included
100% recyclable packaging!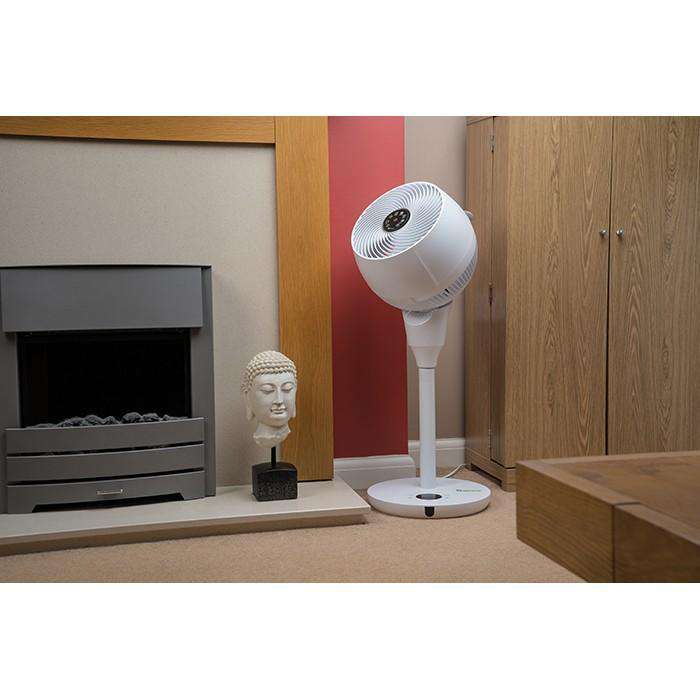 MeacoFan 1056P Pedestal Air Circulator
If you're looking for something a little bigger that can stretch higher than our small portable friend, then this is what you need. Just like the Meaco 360 fan, this pedestal fan is super-quiet, circulating the air within your room efficiently and effectively. It's also brilliant in that even though it's larger, it can be moved between rooms with absolute ease and cools the air without taking up table space.
What else does it have to offer? 
Identical technology

to award-winning MeacoFan 1056

Cooling in temperatures up to 40°C

Ultra-quiet

for comfortable cooling

Remote Control

Unique

3-mode

: Normal, Natural and Sleep

Multi-direction air flow

cools the whole room

Height-adjustable

pedestal
Timer function

allows you to cool for as long as you need

Eco function

automatically changes fan speed

as room temperature changes

Easy-to-use remote control

with magnetic attachment